eidos
Popis
Popis
The new reference in heavy gauge vacuum forming
Style and performance in a new product that re-confirms CMS as market benchmark for heavy gauge vacuum forming. The new EIDOS encompasses sophisticated mechanical solution to guarantee the best performance on the market and a highly innovative, new software, for total machine control that is extremely easy to use.
New CMS HMI ThermoActive software designed specifically for the thermoforming process. The timeline and exclusive Dashboard make supervising production and the process control instant and easily understandable.
CMS ThermoProphet system for the automatic management of the heating powers via thermal vision.
The frame and counter mould movement with 4 electrically coupled Brushless motors (gantry). Transmission occurs via fixed toothed columns, eliminating moving mechanical parts that protrude from of the machine.
New cooling system moulds with mobile outlets installed on the counter mould structure.
Rapid format change thanks to fully automatic window plate and clamping frame.
Mould table with PC controlled Brushless movement and with storable speed and measurements. The patented movement is achieved thanks to two electronically coupled servomotors (gantry), which guarantee the rapid and exact positioning of the mould.
Eidos comes in mono-station version as well as with automatic loading/unloading system in different configurations.
Technical data
Model
Max sheet size
Mould
Max height
Max size
Max force
(mm)
(mm)
(mm)
(DaN)
Eidos 1280
1260 x 860
450
1200 x 800
2000
Eidos 1510
1560 x 1060

600

1500 x 1000
2000
Eidos 1512
1560 x 1260
600
1500 x 1200
2000
Eidos 2015
2060 x 1560
800
2000 x 1500
3900
Eidos 2515
2560 x 1560
800
2500 x 1500
6100
Eidos 2520
2560 x 2060
800
2500 x 2000
7500
Eidos 3020
3060 x 2060
1000
3000 x 2000
10800
Eidos 3525
3560 x 2560
1000
3500 x 2500
13500
Advantages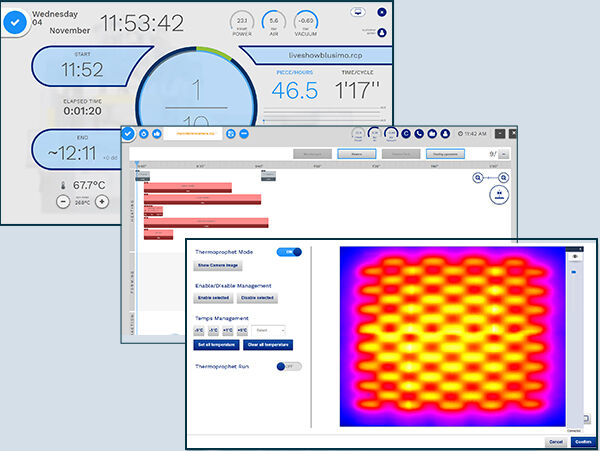 MAXIMUM CONTROL
Thanks to CMS ThermoActive, the thermoforming process parameter setting is immediate. A guided system makes the likelihood of error almost impossible, instantly highlighting errors and inconsistencies. The visual representation of the cycle provides clarity and immediateness to the software with learning times reduced by up to 53% (*). With CMS ThermoProphet (**) maximum heating stability can be guaranteed even in the presence of variables outside the thermoforming machine. Maximum quality from the first piece produced! (*) compared to previous solutions (**) optional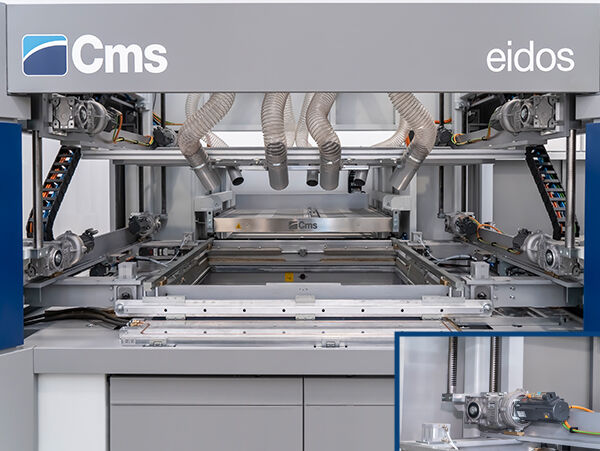 SPEED AND ACCURACY
The sophisticated mechanical solutions allow for rapid movements combined with a completely new structural rigidity. The alignment of the new frame ensures excellent locking of the plate thanks to 4 motors. The new counter mould ensures doubled thrust levels (*) and an increased mechanical stability of 151% (*). The total absence of mobile transmission parts guarantees the reduction of the machine's overall height by up to 25% (*) while ensuring full control of the mould's maximum height, with or without loader and with both positive and negative moulds. (*) compared to previous solutions
OPTIMISED PROCESS
The new mould cooling system with "tilting" function reduces cooling times for the mould by up to 31% (*). The distance of the outlets from the piece and the width of oscillation can be programmed and stored in the recipe. The heating system with oscillating function guarantees maximum efficiency close to the clamping frame. The continuous power can be modified in order to better adapt the heating cycle according to the thickness of the plate, to achieve top quality with shortest heating cycle times and minimum energy consumption. (*) compared to previous solutions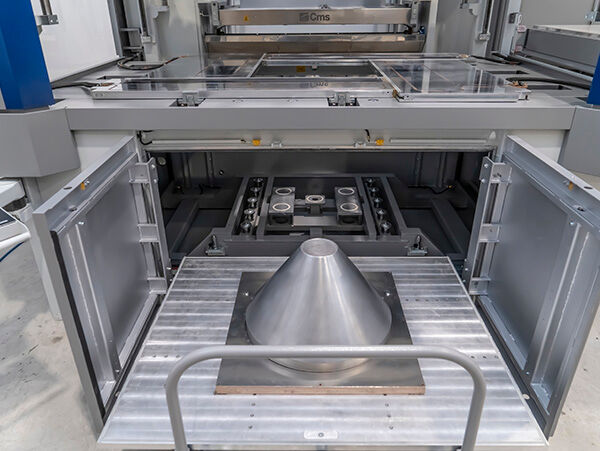 FAST FORMAT CHANGE
The production change times are extremely fast, thanks to the mould table that can be removed using a trolley with pneumatic tool lifting system (**). A second kit (**) allows for the reduction of 75% in mould installation time allowing for set up without stopping production. EIDOS is, therefore, the ideal solution even for single batch productions. (**) optional